A wedding send-off is the bride and groom's planned formal exit from the ceremony or reception.
How Do I Do A Wedding Send-Off?
We'd like to state right here and right now that a wedding send-off is not a requirement for every wedding so don't feel pressured to have one. Some brides don't plan a coordinated send-off. They just say their goodbyes and exit the venue to cheers and claps from guests. Those are free and require zero planning!
Some brides plan a coordinated wedding send-off at a scheduled departure time at the end of the event. At this point, many of your guests may have already left the venue so you'll want to prepare yourself for this possibility.
In light of this, other brides schedule a staged wedding send-off earlier in the event when the majority of guests are still present and the lighting is great for photos. After photos are taken, they go back to enjoying the event.
Bottom line, there is no right or wrong way to do – or not do – a wedding send-off. This is your wedding. Create your own magic.
Talk to Your Venue
If you've chosen to include a wedding send-off, the first step is to ask your venue what they do – and do not – allow. We actually know of a venue that caught fire when someone threw a match into the container holding sparklers. The reception was disrupted by the evacuation as guests watched fire trucks arrive to put out the fire. As a venue owner, I can tell you that's a pretty scary scenario. So is owning a venue on acreage where the grass becomes brittle dry during particular times of the year.
In addition, cleaning up silk flower petals and confetti are very time-consuming so many venues don't allow them either. Staff can spend hours – or days – picking up flower petals one-by-one, and I can tell you that confetti blows with the wind making it really challenging to get it all cleaned up. Due to a misunderstanding, one of our brides used confetti. Our Director of Weddings could be seen out on the property for many days the following week trying to vacuum up those glittery little demons with a hand-held battery-operated vacuum.
Wedding Send-Off Ideas
After thinking through the information above, what will you do? For those of you who have decided to include a wedding send-off in your timeline, here are 17 unique photo-worty ideas we've rounded up for you! Most of them should be venue-friendly but check with yours just to make sure!
Butterfly Release
What could be more magical and nature-inspired than a butterfly send-off? Swallowtail Farms offers individual release packaging as well as mass release options for monarchs and painted lady butterflies. If you're hosting an outdoor wedding, this is an idea that will give your guests an experience they'll talk about for a long time. Because they're a symbol of new life, butterflies are really the perfect option as you depart into your new life together.
Smoke
If you're looking for something more dramatic, the smoke effect might be for you! This can be achieved with a smoke/fog machine and wire pull smoke grenades in colors to match your wedding.
Fall Leaves
Fall is one of THE most beautiful times of year for a wedding – especially if you're hosting an outdoor ceremony. Nature provides a natural option for your send-off. While most venues do not allow confetti, they can't argue with leaves as confetti! Just gather leaves and place them in individual bags for your guests to grab and throw. The only cost you'll have will be the cost for the bags and any decorative embellishments you put on the bags. Your flower girl can also drop autumn leaves down the aisle instead of flower petals. Gorgeous!
Glowing Balloons
Lighting up the night with the glow of enchanting balloons is a fun experience for your guests; however, keep in mind that balloons are harmful to the environment. If you use them, develop a plan to collect the balloons immediately after the send-off before guests release them into the air to harm wildlife and the natural environment. If you choose to use balloons, here are a couple of options for balloon supplies: ChurchHouseWoodworks and Party City LED balloon lights.
Light & Airy Bubbles
Bubbles are super fun, inexpensive, and make for great photos! Oriental Trading has a large supply and many options for you to choose from. Bubbles baby!
Paper Airplanes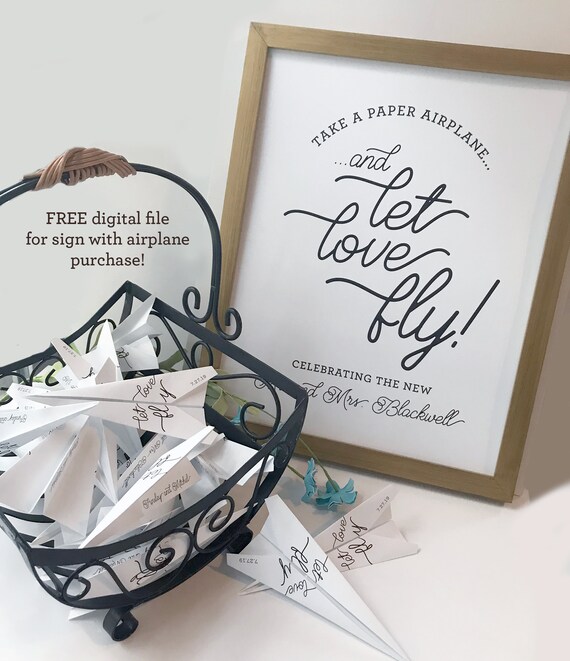 This idea really got us giggling. Can you imagine how fun paper airplanes would be for all ages? This is a great "confetti" option. We love the words printed on these paper airplanes. Just for fun, you could also print your monogram, wedding date, or a thoughtful note on them. Let your guests be kids again and throw paper airplanes!
Bells
Have your guests send you off to the music of tinkling bells – or how about cow bells for a wedding at a farm or ranch? You can purchase customizable cow bells at cowbells.com.
Ribbon Wands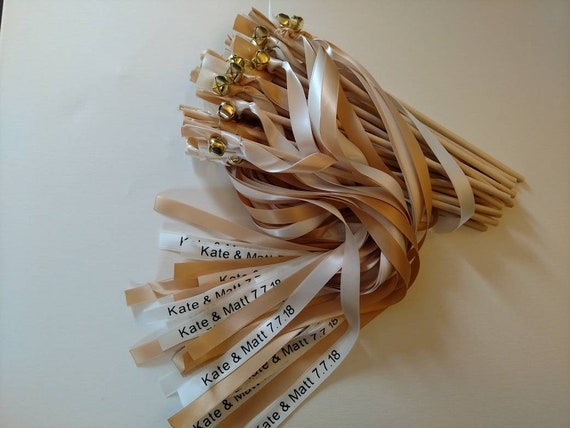 Attach tiny bells to a small dowel rod with ribbon streamers for guests to wave as you leave. Find out how to make them here. Don't have time to make them? You can buy them here.
Biodegradable Fake Snow
The ability to throw fake snow is one of those things that make winter weddings so unique and special! We love all the fresh details that can be included at winter weddings, and this is certainly one of them! Let it SNOW!
Natural Elements
Olive leaves and herbs are beautiful, eco-friendly, and inexpensive. We like the neutral green color of these olive leaves. Amazon has some biodegradable wood cones to hold your "confetti." Etsy also has plenty of additional confetti holder options to choose from, or make your own paper cones using pretty doilies, sheet music, or scrapbook paper in your color scheme using this template.
Dried Floral
Dried floral is so pretty for tossing at the bride and groom, and these paper doily cones are beautiful. You can purchase dried floral from merchants on Etsy and Amazon.
Glow Sticks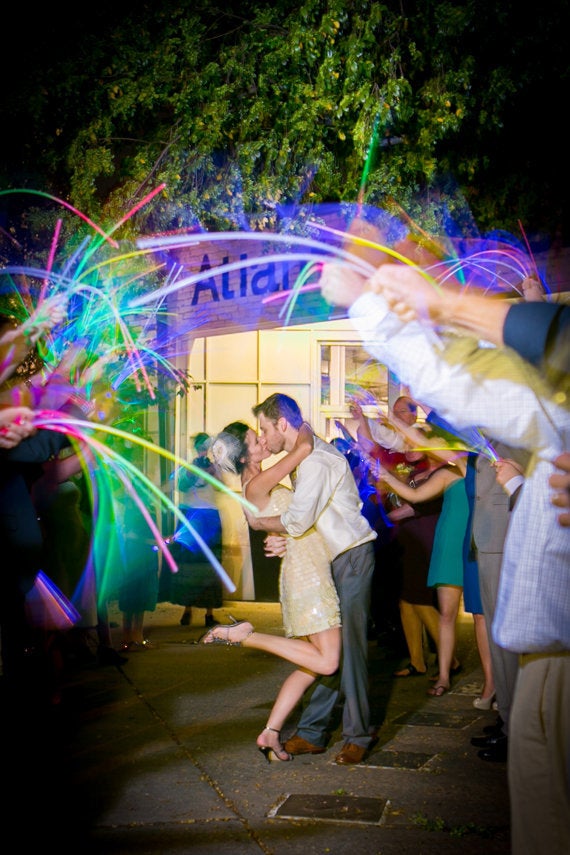 Mini Flashlights
Light the way with mini flashlights. Oriental Trading has plenty to choose from. Wouldn't these be perfect for a camp-themed wedding?
Tambourines, Maracas, Kazoos
How about having your guests send you off with musical "instruments!"
Mini Lanterns
Mini lanterns with safe battery-operated candles create an incredible ambience for the bride and groom's grand exit. Who doesn't love candles? A less expensive alternative would be to use small mason jars. You can find inexpensive mason jars at Michael's Craft Stores.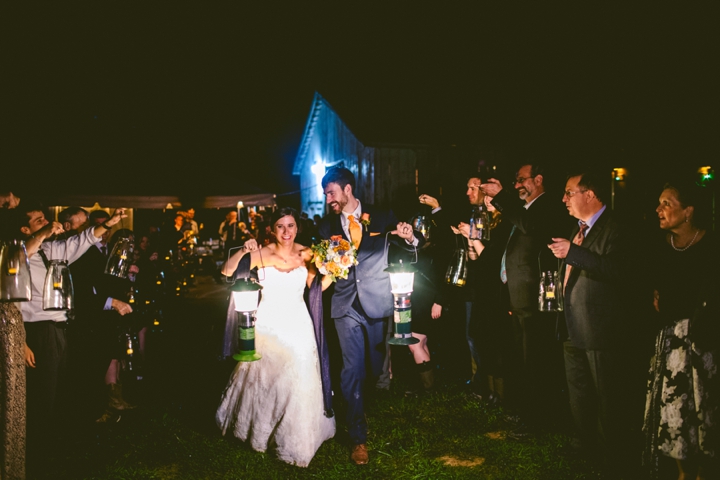 Sports Equipment
Are you sports fans? Sometimes the best way to express your individuality is through sports equipment. The possibilities are endless. Create an arch using baseball bats, golf clubs, hockey sticks, etc.
Streamers
Fun and festive, streamers are a colorful "funfetti" option that are easy to clean up. They also look great in photos.
As we said earlier . . . create your own magic whether you do a send-off or not. This is your day! Have fun and make the most of it by being true to who you are as a couple!